The following measuring chart will aid you in selecting which size would best complement your figure. Please keep in mind, a large a majority of our clothing are cut-to-fit/ slim-cut unless otherwise specified.

* All measurements are in inches
Letter Size
S
M
L
XL
XXL
Top Size (US)
34R
36R
38R
40R
42R
44R
46R
48R
50R
52R
A - Chest
34½
36¼
37¾
39½
41
42½
44
45½
47¼
48¾
B - Waist
30
31½
33
34½
36¼
37¾
39½
41
42½
44
C - Hips
36¼
37¾
39½
41
42½
44
45½
47¼
48¾
50½
D - Inner Leg Seam
31½
32
32¼
32¾
33
33½
34
34¼
34¼
34½
Dress Shirt Sizing
14½/15
15¼/15¾
16/16½
17/17¼
18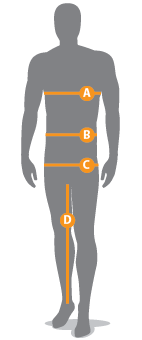 TIPS ON TAKING MEASUREMENTS
CHEST - Placing the tape measure directly under your armpits, measure around your chest at the armpits, over the highest part of your chest
WAIST - With one finger in-between the tape measure and your body, measure around your waist. This measure should be taken while wearing your undergarment.
HIPS - Keeping your legs together, measure around the largest part of your hips.
INNER LEG SEAM - Measure from the top part of your inner leg to the bottom. We will recommend using a pair of pants/trousers that already has a favorable fit as reference.
** Tape measure should be parallel to floor at all times. Except when taking, D - Inseam, tape will be vertical to floor.


*** Measurements can be taken directly from your body or you may measure an article of clothing that fits very well on you.